Why A.Y.E Trust Fund? A.Y.E President
Dear Applygist.com
Why A.Y.E Trust Fund? An Emotional Story by A.Y.E President
AYE INTERNATIONAL MBA SCHOLARSHIP BENEFICIARIES List
Aanuoluwapo Olanipekun
Abayomi Olofin
Abbah Ameh
Abdul Ganiy Aliyu
Abdulazeez ShobajoAbdullahi Muhammad Abbaisa
Abdullahi Rabiu
A.Y.E Trust Fund 2019 Whatsapp Group
FULL LIST HERE
I know you might be wondering if this is truly a letter from me, the A.Y.E President. Well… Yes, it is and I have taken this moment to personally write to you this December because just like you, I have also had my share of turbulent waves which may just be similar to what you've been through or might be going through right now as an Entrepreneur. So I advice you to find sometime from your busy schedule to read my letter to you, if possible save the email and read it later when you have more time.
December 26th, 2017 was a day I narrowly escaped death because I saw death face to face. In that moment I bid my siblings and family farewell, while I laid on that bed feeling lifeless with tears rolling down my face. It may shock you to know what I cared and worried most about at that point, was the A.Y.E vision, YOU and other A.Y.E members.  I look back today and know for a fact that God spared my life for this Vision, it was clear that I had not finished my assignment.
December 2017 started with me on the sick bed with a list of debts accumulated from the AYEEN 2017 conference when all sponsors and donors failed on their financial obligations. As if that was not enough, as it is our culture, we just announced the AYEEN 2017 beneficiaries which meant we had to find other ways to raise funds to empower all. While all this burdened me on the sick bed which had lasted till May 2018, I got a pile of medical bills that kept increasing into 9 solid figures. This covered for 2 Major Surgeries and over 6 months in 6 different hospitals (Home & Abroad).
Applygist.com, please bear in mind that despite all this, the accumulated debts and empowerment of beneficiaries didn't go away. It was then that I told God once again that He has to come through for A.Y.E as I am tired of exhausting personal funds and tirelessly seeking for sponsorship/donations for such a noble cause, "if it is His VISION, then He must fund it ".
Guess the most amazing part of this story?  He responded and gave me an idea…This idea was born while on the sick bed battling to stay alive. The idea which was birth from months in the hospital yet struggling to empower beneficiaries, the disappointments and frustrations A.Y.E was facing, the eagerness to see African entrepreneurs start up and expand their businesses… is one that will empower YOU and other African entrepreneurs regardless of where you find yourself in the World, it is called THE A.Y.E TRUST FUND.
This idea which was launched on the 25th of November, 2018 at the AYEEN2018 Convention will long be remembered as a Historical Milestone for the African Continent. I advice you watch this video, where I fully told the story of the A.Y.E Vision and the story behind this newly launched platform to thousands of entrepreneurs from across Nigeria and neighboring African Countries, click here to watch.
    Register for A.Y.E AYEEN TRUST FUND   
It is no secret that the obstacles we Entrepreneurs face everyday trying to achieve our business goals and dreams are indeed daunting, filled with pain, tears and failures. Being that the odds in this country seem to be ever mounting against small businesses and Entrepreneurs, it has become absolutely crucial for us to find an immediate solution to the current set backs affecting all of us. As A.Y.E President, backed with first hand experience and relationships with thousands of African Entrepreneurs, I realize that a key problem faced by entrepreneurs especially in Africa is "Funding". To secure loans from financial institutions, Entrepreneurs are required to not just tender collateral but in prime locations, complete complex paperwork, agree to stringent terms and conditions, and even pay high interest on the loan requested – a tactical way of enslaving the populace. This challenge is not just faced by you alone but also many entrepreneurs and the A.Y.E organization.
I must admit that as an Organization, it has been impossible to empower ALL like we will love to but the A.Y.E Trust Fund has finally given us a platform to be able to do so while shaping the economy morally, socially and financially. The total number of entrepreneurs empowered annually through the AYEEN program is a drop in the ocean compared to the number of entrepreneurs that apply for the program annually. As a self-funded Non Governmental/Profit Organization, we have struggled to meet the ever growing needs of entrepreneurs in Africa because there is a limit to how much we can do but the A.Y.E Trust Fund which is a God given initiative, gives us a platform to reach everyone where they are and with what they need.
The A.Y.E Trust fund initiative is a platform for trusted Members. The platform that encourages savings is set to reduce the mortality rate of African businesses. On the platform, members interact and are empowered based solely on TRUST. This platform is designed to secure members savings, accommodate and cater to existing and new A.Y.E members from Nigeria, Africa and Africans in the Diaspora. Beyond savings, the A.Y.E Trust Fund network offers members a Trusted Partner they can rely on at any point in their business.
It will take only 59 Seconds for a member to access loans up to N10m with "No Interest, No Collateral, No Paperwork and No Credit Check" eliminating the delays currently experienced in the nation when seeking for credit. Become a trust member today and enjoy the enormous benefits the platform has to offer you. For more information about the platform, visit www.ayetrustfund.org
My utmost love and respect goes out to you and I wish you all the best in your business endeavours. To all AYEEN 2018 applicants, don't forget that the AYEEN 2018 Beneficiaries full list will be on the website by December 31, 2018.
I will love to leave our Slogan with you "If you can ACHIEVE this much alone; how much MORE can we achieve TOGETHER".
You are always in my thoughts and prayers.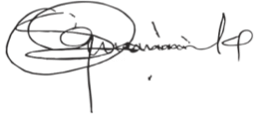 Summy Smart Francis,
A.Y.E President.